This is the story of the plantation shutters that we had installed at our house. It is not a good story and to date it does not have a happy ending.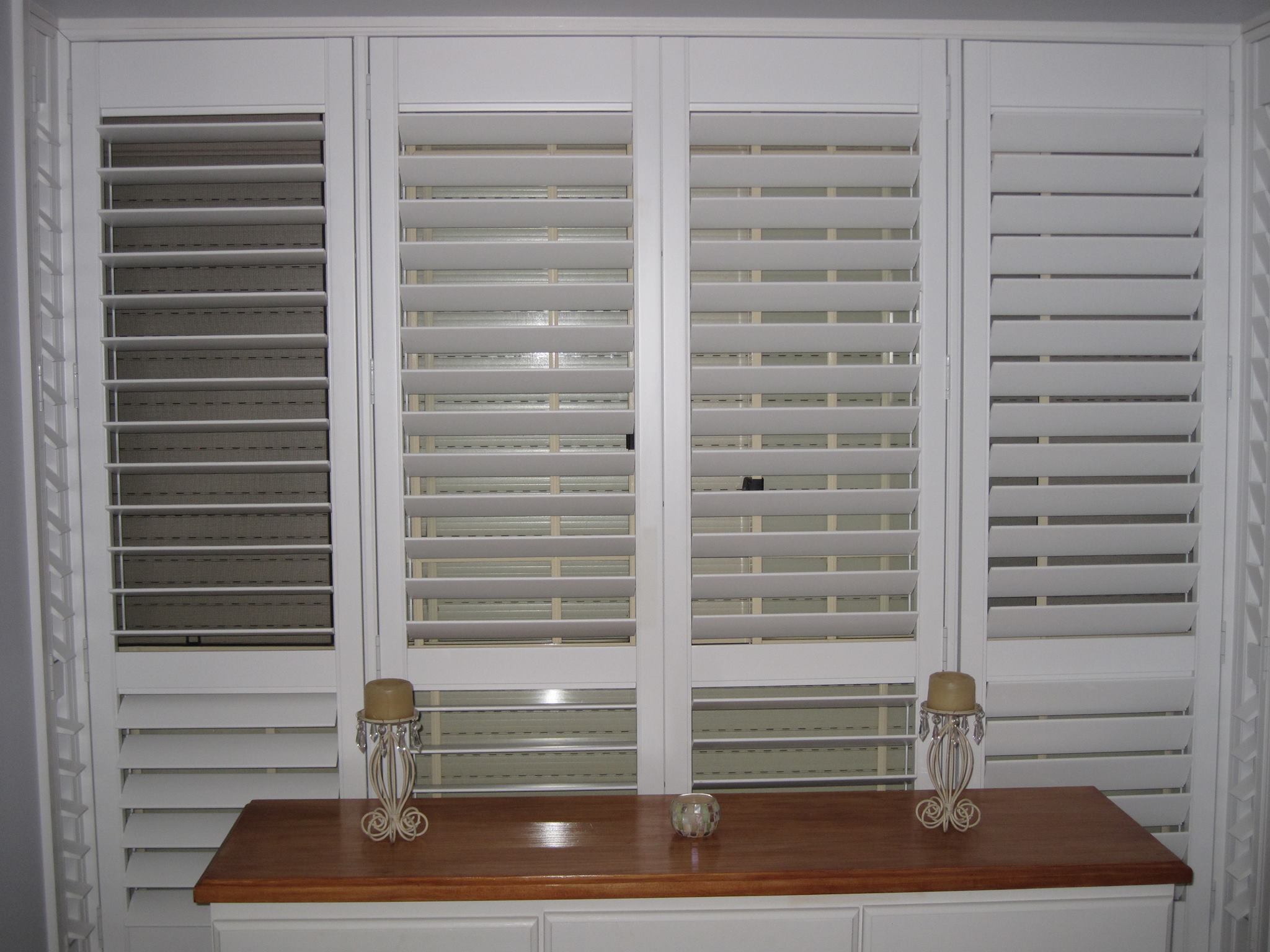 We had been renovating the house for some time when in 2012 we turned our attention to window coverings. Nepean Blinds were recommended to us by friends as the price was reasonable and they had no problems with the installation.
This is their website http://www.nepeanblinds.com.au/.
This is a quote from their website
"Our aim at Nepean Blinds & Doors is to offer our customers the best quality products at value for money prices. Our friendly team of professionals will attend to your individual requirements and offer you that specialised customer service, that you only get from small businesses"
So in June of 2012 we arranged for a quote for shutters for 3 windows, one in the lounge and both bedrooms. The bedroom windows are bay windows and so have two ends each. We were quoted that the ends would also have movable louvres to match the rest of the window. We were told that a 2nd measurement would need to be taken to confirm the sizes that the shutters and frames would be made to.
The quote as for $4,340. We were told that delivery would be 6 to 8 weeks from payment of deposit. The shutters are made in China to measure and are sea freighted.
We took a while to make a final decision but on 27th November 2012 we paid a deposit of $1,300. The second measurement was taken promptly and we settled back to await the installation of our shutters, which we expected by late January 2013.
But things started to go wrong. We were sent a variation form dated 3 January 2013. It stated "Beds 1 & 2 to have solid infill panels to both sides of corner windows as size is too small to have blades (as agreed by phone). We were away on holidays so were not able to return the form until January 23. I did agree to the variation by phone.
The first installation date we were offered was Tuesday Feb 26 but as we both work that wasn't possible. We organised Friday March 1st, for which Jenny took the afternoon off. But Nepean Blinds had to cancel as the the technician had fallen off a ladder.
Then on March 9 we came home early from diving at Port Kembla for the re-scheduled install. We received a phone call telling us that the previous install had gone over time and the technician would not be able to do the install as planned.
Finally on Saturday March 23 Nigel arrived to do the install. Upon opening the boxes we found that the end pieces for the bedroom windows had louvers. These were the ones that the variation form was done for. So the variation was a waste of time and delayed the install.
Lounge windows went fine. Front bedroom was tight across the top rail but went in OK as well.
But the main bedroom shutters were not right. When Nigel tired to install the frame he discovered that the window was 20mm shorter in the middle. This was obvious when he measured window. The window had been measured twice before and both were wrong. So he could not complete the installation. He left the frame partly installed, telling us that he would have to modify the top rail. So our main bedroom was without window coverings.
On March 30 I e-mailed Nepean Blinds to advise that the bottom rail was cracked. On April 5 they responded advising us that a new rail would need be ordered from overseas. Delivery would be 6 to 8 weeks. This one piece of wood, less than 2m long and not more than 100mmx100mm had to be shipper by sea, resulting in another long delay. I don't know why Nepean blinds did not air freight this single piece to avoid further delays.
In the same e-mail I advised them that the end pieces for the bedroom windows had louvers despite the advise from their supplier and the variation form. They claimed they were not aware that the supplier had made the end pieces with louvers after all.
On May 27 I sent an e-mail to Nepeans blinds outlining the delays that we had suffered and seeking financial consideration for this inconvenience. The reply stated that my request had been forwarded to management. Then on May 30 I spoke to Yvonne (who I found out later is the owner John's wife). She said that she would put my request to their Chinese supplier. She also said they are not in the business of losing money. Needless to say we never heard any more about this request.
We heard nothing from Nepean Blinds until July 2nd when Cassandra rang and left messages on my work and mobile phones.
On July 8 I get a call from Missy from Nepean Blinds which I could not take. She asked me to call her back. I left a message on the business voicemail.
On July 9 I had my first conversation with John Stadtmiller the owner. I told him I did not have a response from Yvonne about my complaint on the delays. He said he had read my e-mail. I said then you know my complaint. He said "unfortunately because it's an overseas suppler..." I cut him off. I said only 2 of the issues related to the overseas supplier. I told him to go back and read my e-mail again and when he is ready I'll talk. I then said goodbye and hung up.
John then rang Jenny on July 10 at work. He said to Jenny that I had hung up on him. Jenny started to tell him what Nepean blinds had done to us but he was not listening. He continued to talk to Jenny about my hanging up on him, stating "no-one hangs up on him". John made further calls to Jenny and all of these she told him that he had to talk to me.
At 10:49 that morning (its a workday) John leaves a message for me to call him in the office asap as he was going out shortly. Sorry, but when I'm at work I don't have the liberty to return calls whenever I like.
I spoke to John on July 11 at 14:15. He said he was prepared to offer me $100 "goodwill discount" for the time I would have to take off work for the installation. I suggested $500 was what I was expecting. We negotiated $300 which he agreed he would confirm by e-mail. I never got that e-mail. That figure was on the invoice that we received when the install was finally completed. More on that later.
On July 22 in the afternoon Roberto arrived to do the install. I had taken the afternoon off work so that they could complete the job. Roberto brought the new bottom rail but no top rail, He said he did not know about the top rail. Several phone calls later Roberto had found out that the top rail was with Nigel who had modified it to fit the window.
Again, no communication from Nepean Blinds until I send them an e-mail on August 19 asking for an update on the status of the job. I was offered an install date when the cracked rail would be replaced. I replied that I had not requested an install date - I wanted to know the status of the job. Several e-mails later it was obvious that the office was not aware of the issues with top rail.
The following day John left me a message on mobile to call him in the next 5 minutes as he was going out after that. I didn't get the message till a bit later so did not return the call.
August 21 John rang again, leaving a message to call him and to let him know when would be as suitable time to complete the installation. This has got to be the most bizarre business call that I have ever had, Among the things he told me during this call was the he earns $180/hour. He asked me what football team I follow he told me my team was not going so well. He backs a winning team. He said "I'm a winner not a loser" & "I'm forward looking not backward looking". When I challenged him on the delay that we had incurred he referred to "bad karma". He then asked me was I religious. When I explained how busy I was with work and how it was difficult to get time off for the installation he said that he was only in the office for half an hour a day. He said he would love to have the time to sit in his office and play with his dick. "I like playing with big things" he said. These comments were made through a conversation that lasted around 20 minutes, He agreed to complete the job one evening. I said I would let him know what evening we could be home. I was unable to call them the next day so I sent an e-mail advising dates that we could be home. We settled on Wednesday 28th August at 7pm. John confirmed that and advised that Roberto would come to do the install.
On time at 7pm on August 28 Roberto arrived to complete the installation. John also came (in separate vehicles). I shook hands with John and asked what he was here for. He said to help Roberto. I asked does Roberto need help? (as every other install there has only been one person). I told John that I would not allow him into our house. I then told him he was trespassing and to leave by property. He complied and said that he would wait in his car. Roberto came in and with some help from me was able to install the shutters in our bedroom. Roberto handed me the invoice and after some general conversation left.
The next communication from Nepean Blinds is on August 31. Jessica rang Jenny about the outstanding payment for the installation. Jenny sent Nepean Blinds an e-mail telling them to refer all correspondence to me. Then on September 4 Cassandra rang me, leaving a message can I call her back..
On September 6 Cassandra rang Jenny and told here that I had said that they were to discuss any payment matters with her. Actually we have always said the opposite, that all matters need to be referred to me. Jenny told her that was wrong. Cassandra then rang me, asking how I would be paying? I said I would pay when I am ready. She said she would pass than on to management. I said to her to tell John that I would talk to him when I am ready. She said she could see if he is available. I told her I was not prepared to talk to John now.
John rang me on September 11 and asked me to call him back. I was in the middle of a vey intense project at work and was not able to attend to personal matters during the day. I replied by e-mail that I could not call him back during the day but could correspond by e-mail.
This is that e-mail:
Thank you for your attempt to return my call by way of email, the reason for the call was to obtain your final balance being $2740.00 as per attached invoice. Roberto has informed me that all went very well at the 7pm installation and also said you were happy that we went out of our way to arrive at such an unusual time not to impact on you taking any more time away from your busy work commitments. That is not a problem, we are here to assist and help our clients in any way possible and Iím glad to hear you appreciate that. Roberto also informed my staff and myself that you told him that Jenny Zautsen would be settling the balance the following day being 29.8.13 either by way of Matercard or Direct Deposit. When one of our staff rang Jenny, Jenny said that you were paying the final amount. Unfortunately till this day the final balance has not been settled and any attempt to contact yourself or Jenny seems to be to no avail, therefor I have been advised to put a time frame on the balance being paid of $2740.00 by Friday 20th September by close of business 5pm. If the balance has not been settled by this day our goodwill discount will be removed from your invoice and we will be seeking the full amount of $3040.00 from Jenny Zautsen whose name appears on the Nepean Blinds & Doors order form.
Thanking you for your co-operation,
Kind Regards,
John Stadtmiller
Commercial/Retail Sales
In response I corrected a number of points in the above e-mail, including that I had shown my appreciation to Roberto, and that that appreciation did not extend to Nepean Blinds and Doors who had taken 9 months to complete the job. I also clarified that there was no conversation between Roberto and myself in relation to payment, not at any time was payment even raised by Roberto. I asked for explanations for the delays and details of when and where I had a conversation with Roberto about payment.
John's response:
Rudy Van Der Korput & Jenny Zautsen,
Thank you for your reply, however after seeking more advice your points are impertinent to the actual issue at hand, which in this case is your outstanding balance. Nepean Blinds & Doors will not be corrosponding to anymore irrelevant communication in relation to this matter and we would like to remind you that as our email states on the 17th September 2013 we will be seeking the full balance amount come close of business Friday 20th September 2013.
If the balance is still outstanding after this time we will be handing the matter over to our legal representatives for pusual of the monies owed.
We thank you once again for your co-operation.
John Stadtmiller
Commercial/Retail Sales
On Friday September 20 we posted a bank cheque for $2,740 to Nepean Blinds by registered post. That cheque was received on Tuesday 24th and banked the same day. This was the amount on the only invoice that we have received. On the same day as the cheque as banked John Stadtmiller took out a court order. The court order states that we "ordered custom made window furnishings from John Stadtmiller (t/a Nepean Blinds and Doors) and is refusing to pay the balance". John filed for $3,040 plus $128 filing and service fees. We had till 29th October to respond.
We took the court order to our solicitor as we did not know what to do with it. We felt that John had not been reasonable in his handling of this matter and the court order was not warranted. Our solicitor wrote to John Sadtmiller about this, Our solicitor rang John when it was getting close to 29th October as we had not had any response. John claims the letter was not received. Our solicitor then e-mailed John the letter and followed up with a phone call. John said he had the e-mail but did not have the time to look at it.
We heard nothing more until we filed a defence notice to the court order and were told that John Stadtmiller, owner of Nepean Blinds and Doors had got a default judgement on the matter. In non legal speak we had not responded to the court order and in that situation the court order is upheld and John Stadtmiller can use legal force to recover the money. This includes garnishing wages and sending the sheriff to take property from us. So while in discussions with us he has gone back to the court and told them we had not responded and he was invoking his legal right. This is just immoral.
Our defence was to be heard in the Penrith local court on December 19. The day before John Stadtmiller withdrew his court order. The matter was mentioned on December and the court order, taken out by John Stadtmiller was thrown out. Still it cost us legal fees to prepare the defence.
Sadly, that is not the end of it. Two of the shutters close all by themselves in the lightest of breezes. We now are having to make a warranty claim. Let's see how that goes. Well we sent an e-mail to the company. First we were told that they could send an installer out. I advised when we would be available. I heard no more for 2 days so I asked again. I was then told that this had been referred to management. John (Management) would be back the following week. We got a reply from John which trivialised our issue, rejected our warranty claim and then told us how to adjust the blinds. Apparently it is normal for the installer to tell us how to care for the blinds and how to adjust. We had 2 different installers here on a number of occassions and we were never told anything about maintaining the shutters. We checked with friends of ours who also had shutters from Nepean Blinds and Doors. They were not told anything about care or mainteinace either.
What this company says and what it does are 2 opposite things.
You can make up your own mind about whether we are being unreasonable or whether Nepean Blinds and Doors is being unreasonable.
Feedback is welcome : rudyvdk@bigpond.net.au
This site was last updated 23/01/14