This is my second dive on HMAS Adelaide. Seas were up a bit and we had an 8am booking for mooring 1 which when we got there was missing. We used another mooring. 5 of us dived - Daryl & Stuart, and Jen, Wayne & I. We went first and Jen and I headed down as soon as the boat stopped. Our mooring was tied to the handrail, not really good. Viz was fantastic. We were at the stern starboard side. Our first encounter was a cuttle which another diver was flashing her torch at. Wayne joined us a few minutes later.
We headed forward and down inside the wreck, coming through a number of corridors which weaved right and left. We came out on the helicopter storage, then headed further in and down past the propeller shaft, coming out onto the sand at nearly 35m. It was nearly high tide though. We then swam along the side and up over and into the wheelhouse to take the obligatory pics in the captains chair. Then forward to the bow past where the '01' used to be. From there back along the port side which had more fish life on it. All the way back to the mooring. Jen was low on air, we had been pushing into a slight current on the way back. She sucked on my occy for a bit, then Wayne's. Below is my profile for the dive. Note the deck is at 22m and I was deeper than 34m outside the ship and not on the sand. I'm told that if oyu go right down the elevator shaft you can get to 37m. That would be below the sand line by a couple of metres,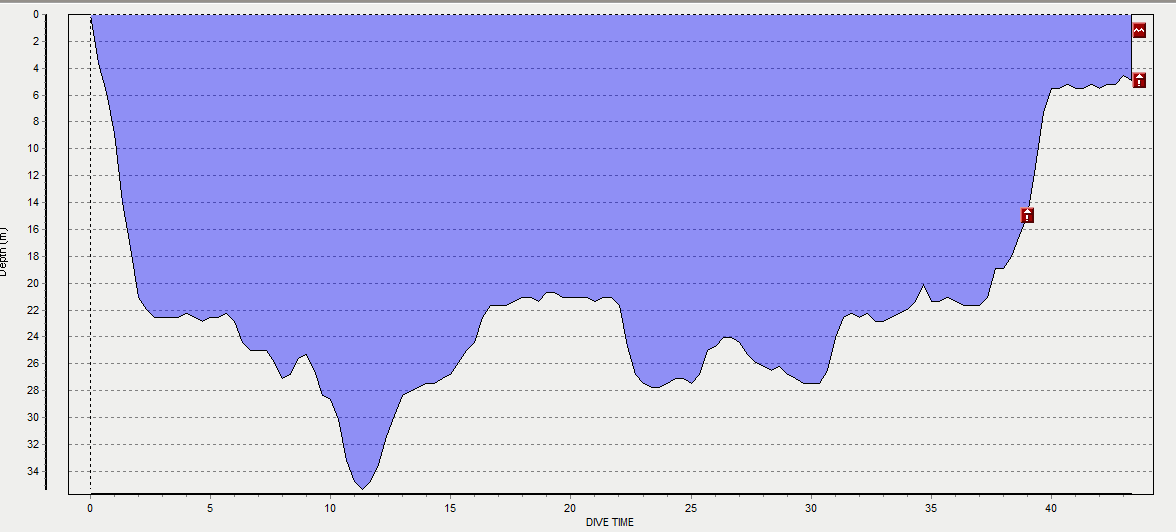 e.
The wreck is now covered in growth and looks good. She has sunk more into the sand - we didn't expect to get deeper than 34m on this dive. There are lots of fish around the conning tower and we also saw an octopus at the stern. So fish life is coming to the wreck and she will be a fine wreck to visit over and over again.