The SS President Coolidge attracts many thousands of visitors a year. Others have written extensively about this wonderful wreck. Here are a few useful links.
Michael McFadyen -he has done a lot of research which is all here.
Aquamarine - we did our dives with them. Below is a wonderful display that covers a whole wall in the Aquaramine shop. It does give a good idea of what's in store when you dive the SS President Coolidge. Click on the picture to bring it up full screen.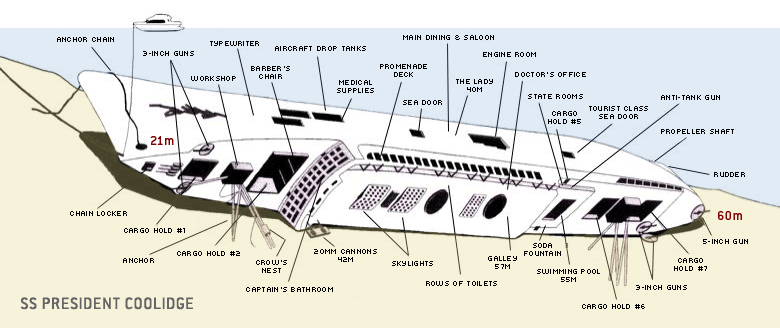 Courtesy Aquamarine
If you are really want to take your research further Peter Stone's book The Lady and the President is well worth it. It's available from his website Oceans Enterprises. Having now read the book I wish I had read it before our dives. It would have made the dives that much more memorable.
I surmise that the Coolidge sank due to a series of errors made by the Navy. Missing instructions on how to enter the port, lack of engagement when the Coolidge was obviously heading the wrong way, and poorly located guide points. Point Hypo, listed in instructions (see below), is where the Coolidge would commence the run into Segond channel. It was located at a point that made the path that the Coolidge took the most obvious one, especially with the high threat of lurking Japanese submarines. There was no mention of mines. If Point Hypo had been closer to the correct entry, the Master of the Coolidge in all likelihood would never have entered where he did and she would not have sunk on that day. The diagram below shows this quite clearly.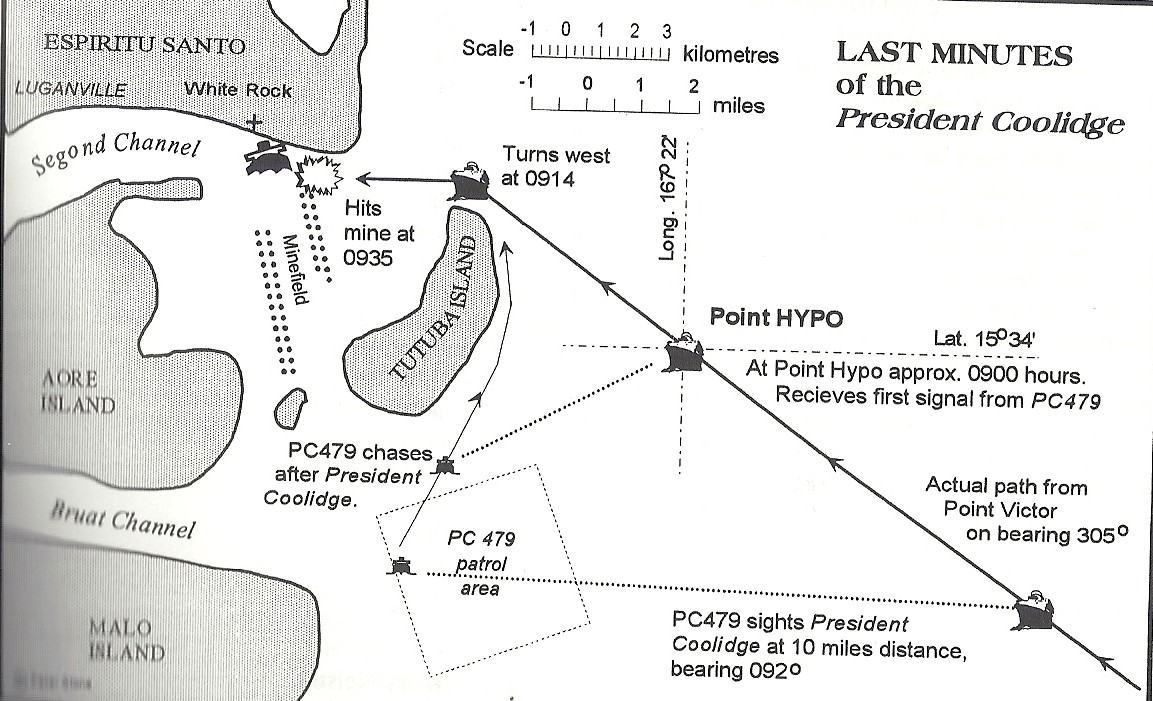 courtesy: Peter Stone

Our trip

We flew out of Sydney on May 13. It was cold on the train platform. We were told to be at the airport 3 hours before the flight leaves but check in was not open until 2.5 hours before the plane leaves. We grabbed a hot chocolate at the airport and waited for check in to open. All went well there and we went smoothly through customs. Our plane was late arriving so we were late leaving Sydney. The flight was about 3 hours and we landed smoothly in Port Vila. We were met in the terminal by a local band playing bongos, guitars and a tea chest bass. A lovely welcome. All went well and we went to get a drink, then realised that we had no local money, so back to the ATM where I withdrew the whopping sum of 20,000 Vatu. Our drinks were 320 vatu and I had to pay with a 5,000 vatu note. I tried to remember that in really simple terms one Vatu is a bit less than one Ozzie cent (or $1AU is about 100 Vatu). The exchange rate during our visit was around 84.

Our plane from Vila to Santo left early and took only 50 mins. We were met by Ben from the Deco Stop Lodge and our gear was quickly put in the trailer and off we went for the short drive to the motel that was to be home for 9 nights. The Deco Stop lodge is a wonderful place - nice bar, pool and restaurant, great facilities for washing dive gear. It has lush gardens with many different flowering plants. It is a 15 minute walk down the hill to the town centre. You can walk back as well (we did) but a cab (of which there are many) will cost between 200 and 400 Vatu depending on where you are in the town. The Deco stop also hires out scooters, push bikes and a small van as transport options. Ben and Kim are great hosts, the local staff are very helpful and the views across the channel are great as well. Did I mention how good the food was?

On one of the nights we had a cultural night. Kava was provided and I tried it but it tastes like mud and I had no more. We a local band including a tea chest bass play and sing for us and then we had the snake dance. This was quite exciting and there was lots of stomping feet, yelling and spear jabbing. For the younger children who were watching they were quite scary.

Day 1 we are picked up at 8.30 am in the bus and trailer and head off to the dive site via the shop. The bus trip is about 20mins and the road is a pot holed dirt track. You soon get used to to the pot holes and the winding down the road and soon we arrive at our destination. The area is a nice path down to the water. On both sides is nice beach and you can see the buoys in the water that mark the bow and further out the engine room. There are benches each side of the path and it is well shaded by overhanging plants. We put our gear together and then get a comprehensive briefing from our guide Dave. Dave has been diving the Coolidge for 18 years. He certainly knows it well. Our first dive is the Promenade deck.

After the dive we dismantle our gear and put it all in a tub, then back into the trailer, and back to the deco stop. At the deco stop lodge there this a well set up wash area with large concrete tubs full of water and lots of hangers and hanging space. So between dives we give everything a good rinse. It's mostly to get the sand out of the the dive equipment.

Then it's lunch and we are picked up again between 2 and 2.30 for our second dive of the day. This is to Cargo holds 1 & 2.

It is the same routine each day and we are back at the motel around 4.30pm.

Day 2 we dived a bit deeper into the wreck visiting and kissing The Lady. Our second dive is to Medical supplies. After our dives we enjoy a buffet dinner and a traditional band and snake dance.

Day 3 is cloudy and a bit windy. We head deeper to the engine room where things get a bit interesting. Our second dive is not on the Coolidge but on Million Dollar Point.

Day 4 - is again cloudy with rain. We head out and dive to the swimming pool at 55m and then in the afternoon we dive ABC Decks.

We had a treat in store the next day as when we turned down the dirt track it was being graded for the first time in many months. Once graded this part of the trip was much quicker and more comfortable.

Day 5 - I dive to the Doctor's office and in the afternoon Jenny and I did one of Dave's Hash tours.

Day 6 - We go Deep Blue to The Stern. Deepest dives for both of us and in the afternoon we revisit cargo hole 2

Day 7 - our last dive we say farewell to "The Lady". Our last dive the Coolidge Night Dive in Cargo hold 2. It is the most amazing night dive I've ever done.

14 dives for me and 13 for Jenny and what a wonderful experience it was.

Home | SS Undola Wreck | Malabar | SS Tuggerah Wreck | SS Kelloe | Hilda wreck | Bombo wreck | Royal Shepherd 09-02-08 | SS Annie M Miller | Birchgrove Park | Valiant | Centurion 13-02-10 | SS President Coolidge | TSS Hall Caine 23-10-10 | HMAS Adelaide

This site was last updated 28/10/11